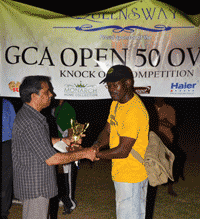 HAVING successfully defended their Georgetown Cricket Association (GCA) Queensway Open Cup title by defeating their nemesis Demerara Cricket Cub last Sunday, defending champions Georgetown Cricket Club (GCC) walked away with the hog of individual prizes from the presentation ceremony.
T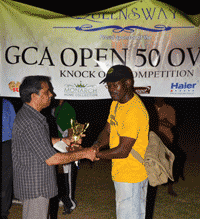 heir captain Leon Johnson performed with bat and ball on Sunday, taking four crucial wickets for 66 runs, including that of his opposite number Christopher Barnwell, coupled with a superb innings of 89 earning himself the Man-of-the-Match award.
Johnson received a 32" television and trophy for those efforts, a 29" flat screen television and trophy for his bowling performance, his club a freezer for the team's victory, their coach Monty Lynch a 21" television and Robin Bacchus a DVD player, microwave, twin tub washing machine, 21" television, 180 x 220 carpet, pair of bowling boots and a cash incentive, while GCC got a trophy and $120 000 for the win.
All players who were nominated the Man-of-the-Match in the first round, received a DVD player and these are:  Shivnandan Roopnarine (GYO), Jermaine Reynolds (PSC), Dennis Legay (GDF), Carl Rambharose (TSC), Rajendra Chandrika (ECC) and Jermaine Grovesnor (GNIC).
For the second round, the winners were: Rambharose, Bacchus (GCC), Barnwell (DCC) and Troy Gonsalves (ECC), with Rambharose taking home a 21" Monarch television set after being named the MVP of the preliminary rounds, scoring 146 runs that went along with five catches and one run-out.
Both Barnwell and Bacchus received microwaves after they were adjudged the man of the match in the semifinals with Barnwell receiving a 21" Monarch television set as his spoils, after being named the MVP of that phase of the tournament.
The fielder with the most dismissals in the competition, excluding the finals, was GCC's wicketkeeper Gavin Charles while DCC's Derwin Christian received the accolades for the fielder with the most dismissals in the final.
All three umpires, namely Nigel Duguid, Shannon Crawford and Cyril Garnath were recipients of a medallion and one crystal decanter set each. Match referee for the final Colin Stuart, head groundsman Edward Samaroo and scorer Kevin Pellew also each got a medallion and one DVD player.
Apart from their individual prizes, each member and coach of the victorious and runner-up team received a medallion with Guyana Chronicle's Senior Sports Reporter Calvin Roberts receiving a trophy for the Best Coverage of the tournament.