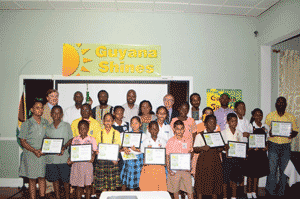 THE Georgetown community of Tucville is the grand-prize winner of the 'Guyana Shines 2012' clean-up project, and this was communicated to its leader, Curtis Harte, on Friday afternoon during a ceremony at Duke Lodge on Duke Street, Kingston.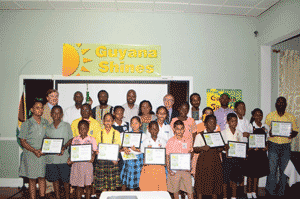 The Recognition of Participation award was also presented to Lodge, East Ruimveldt, Tucville and Festival City.
Awards and certificates were given to participating schools, including the J.E. Burnham; Ketley; Stella Maris; Hindu Dharmic Sabha; South Ruimveldt; St. Ann's Orphanage (Academy of Precious Ones); Tucville, St. Margaret's; Marian Academy; Guyana Islamic Trust; Lodge Nursery; and the Conference of Seventh Day Adventists.
Community leaders, Lynette Pompey of Lodge and Curtis Harte of Tucville detailed their experiences during the clean-up project, which lasted from June 4 to 18. They told of difficulties in mobilising people to get started, but in the end it was all worth it, since a much cleaner environment has been the result.
In opening remarks on Friday, U.S. Ambassador, Brent Hardt said that the 'Guyana Shines' project seeks to encourage and mobilise Guyanese communities to maintain a clean environment, and reverse the litter situation which threatens to engulf the city and its environs.
Hardt noted that keeping neighbourhoods clean is vital for Guyana and any nation — for its communities and for its people — for reasons of health, sanitation, crime, investment, and a smoothly functioning city infrastructure.
The diplomat added that a beautiful Guyana can help to promote tourism and biodiversity, while bringing economic benefits to business communities and social benefits to people.
Hardt stated that, most importantly, a clean environment improves the spirit of community and the quality of life for citizens.
The envoy explained that, through 'Guyana Shines', their organisations reached out to 14 schools which were represented on Friday, and their goal was to build awareness among the young people of Guyana on the harmful effects of littering and pollution, in the hope that those young people would take to heart personal practices that will lead to a more environmentally-friendly future.
Hardt said, "We believe that only by educating young people can (one) truly transform the attitudes of an entire generation to build a cleaner future. Young people can also become change who can encourage their parents and teachers to make more environmentally sound choices."
Hardt added that, on May 14, 2012, the US Embassy held its 'Guyana Shines' educational launching at St. Margaret's Primary School, with intention to focus first on schools and young people, in the firm belief that education is the first and most critical step to shaping a future in which all citizens of Guyana take responsibility for protecting their environment, and preserving it for future generations.
Hardt said schoolchildren learnt how harmful and unsanitary garbage is, were shown pictures of clogged waterways and piles of trash on the ground, and were given a sense of the severity of the pollution problem on a global scale, beyond Guyana's borders.
He pointed out that students were also shown photos of animals negatively affected by litter; and birds, manatees and turtles that had accidentally consumed garbage, or had become fatally entrapped by plastic.
The diplomat added that 'Guyana Shines' identified Lodge and Tucville as the first two communities for its focus, and leaders were identified to take on the responsibility of rallying those communities to spread awareness of the project.
On June 4, the 'Guyana Shines' team launched the community clean-up in Lodge and Tucville, armed with green gloves and biodegradable garbage bags for the task.
Permanent Secretary of the Ministry of Natural Resources and the Environment, Joslyn McKenzie, also spoke at the event. He said the ministry endorsed the 'Guyana Shines' project recognising the wanton waste disposal that obtains in Guyana.
He added that, annually, expenses are incurred countrywide to deal with dumped garbage clogging up drains and creating hazards for the environment; and he urged all citizens to rid themselves of the scourge of irresponsibly dumping garbage and to adopt a behaviour change.
McKenzie said that, on June 5, the ministry launched its own campaign, donating receptacles to communities for the proper disposal of garbage, apart from donating other tools. He said the response was massive.
He pointed out that, despite being admonished, people are dumping refuse all over the place; and to address this situation, Litter Wardens will be introduced in the next two weeks to monitor the situation. The wardens will have the power to place culprits before the courts.
McKenzie added that the ministry has had national consultations with the private sector and, of course, supermarkets countrywide, in order to promote awareness and reduce the distribution of plastics and Styrofoam from the environment.
Also speaking at the occasion was Assistant Director of the Environmental Community Health Organisation (ECHO), Georgeania Lewis, who applauded the efforts of 'Guyana Shines' and said that the organisation has embarked on several clean-up projects to rid the environment of garbage.
She pointed out that an ECHO Club has been established, volunteers – teachers – have been trained, and those have done their part in educating the children in schools.
Ms. Lewis said an awareness programme aimed at promoting a cleaner environment will soon be launched on a television show.
Several diplomatic and civic partners, including the British and Canadian High Commissioners and Head of the European Union Delegation in Guyana, as well as staff members from the U.S. Embassy, Conservation International and Youth Challenge Guyana, embarked on a mission to encourage and mobilise Guyanese communities to maintain a clean environment. The aim of this initiative is to see 'Guyana Shine'.
Keeping the city clean is important for Guyana and its people. It is necessary for good health and sanitation. It encourages tourism, supports biodiversity, increases property values, ensures clean waterways to avoid flooding, and improves the community spirit and quality of life.
'Guyana Shines' supports awareness and hands-on clean-up projects within wards and areas of the city. Every individual has a role to play in keeping their own environment clean. And everyone is admonished to Pick It Up, Guyana; Dump it in the Bin – everybody can chip in.