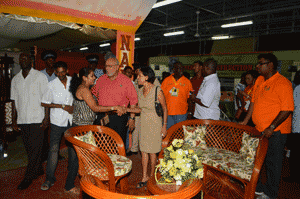 PRESIDENT Donald Ramotar made up for his unavoidable absence from the opening of Guyana's signature trade fair and exposition, GuyExpo, when he dropped in Friday evening for a leisurely walkabout, accompanied by First Lady, Mrs. Deolatchmee Ramotar.
They were escorted around the exhibition site by Minister of Tourism, Industry and Commerce (ag), Mr.  Irfaan Ali and staff from the committee that organised this year's GuyExpo.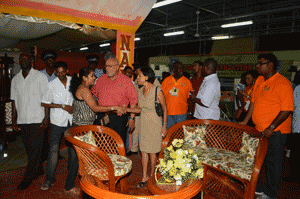 Over 400 exhibitors, among them entrepreneurs from the Caribbean Community (CARICOM), North and South America, and Asia, are participating in this year's exposition, being held under the theme, "Strengthening the Traditional, Embracing the New".
Some eagerly welcomed the officials and wasted no time in providing them with relevant information on the range and types of products they have on display.
Among the more memorable exhibits is a pictorial put together by members of the Guyana Prison Service (GPS) showcasing its many achievements over the years, including its sports, art and cultural programmes. The illustrator of the exhibit is reportedly a Cadet Officer within the service.
Another is the replica of a core house constructed by members of the National Commission on Disability which demonstrates ways of making life easy for the differently-abled and those with special needs. The President and his entourage were treated to a demonstration by the organisation's secretary, Ms. Tiffany Ward.
Some of the more reputable local companies such as Toolsie Persaud Limited, Comfort Sleep, GuyAmerica Furniture,  Kissoon's Furniture Complex and Melsha Furniture Store, had on display a range of home furnishings.
Private entrepreneurs such as local potter, Kibwe Copeland and pioneers of the Environmentally Friendly Biodegradable Food Boxes were well represented.
President Ramotar shared his thoughts on this year's exposition while extending greetings to Guyana during an interview broadcast live on the National Communications Network's (NCN) 100.1 Fresh setup at the venue.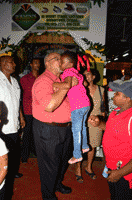 During a brief interview with broadcaster, Michella Abraham-Alli, President Ramotar said:
"I think it is a very good exhibition; it's quite different from the others. There are a lot of local displays… It really shows the potential that we have. I felt proud looking at many of our produce, and those who haven't had the chance to see it (the Exhibition), I want to urge them to come down and have a look."
Asked about Guyana's outlook in the near future in keeping with this year's theme, the President made reference to initiatives in train to promote the Information and Communication Technology sector and the modernisation of the sugar, rice and bauxite sectors.
Asked to give good reason why foreign investors should consider Guyana as a possible country in which to expand their enterprises, he said:
"We have a lot of potential here, a lot of raw materials; we have minerals and natural resources. We have land; we have fresh water and good conditions for agriculture. In an era when it is very clear that the world is thinking seriously of food security, Guyana has the potential of playing a major role."
The First Lady also shared her thoughts on the exposition, proud of the fact that the range of furniture on exhibit are all locally made.
She recently returned with the President from the  United Nations General Assembly where they shared a photo 'op' with U.S. President Barack Obama and First Lady Michelle Obama during a reception at the Waldorf Astoria Hotel in New York.
GuyExpo ends today, and is anticipated to have attracted an estimated 80,000 visitors over the four-day period. (GINA)