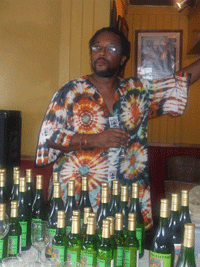 PANDAMA Winery, located along the Soesdyke/Linden Highway, will showcase 13 flavours at Guyexpo 2012, to be staged from September 27 to 30 at the Sophia Exhibition Site, Greater Georgetown.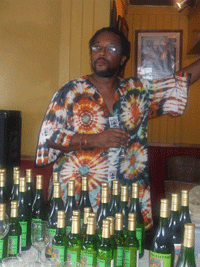 Themed 'Strengthening the Traditional, Embracing the New', the event will facilitate 400 exhibitors, including 150 from overseas and some 80,000 local and foreign visitors are expected to view the exhibits.
Speaking to the Guyana Chronicle, Mr. Warren Douglas, master winemaker and co-owner of Pandama Retreat and Winery, said this is the third consecutive year the business will be participating in Guyexpo.
Pandama Wines, earlier this year, received the 'Best New Product' award at the Tourism and Hospitality Association of Guyana (THAG) annual President's Awards Dinner at the Princess Hotel, Providence, East Bank Demerara.
The factory, co-owned by Mrs. Tracy Douglas produces pineapple, soursop, sorrel, jamoon, aunty desmond, cherry and cashew, among other wines and work is currently ongoing to make a new flavour called pepperoni.
Mr. Douglas said he sees the business as very promising, attributing this to the wide variety of fruits available in Guyana. The best selling is a tonic wine named capadulla, which is a libido enhancer, according to him.
He said what makes his wines unique is the fact that they are not only made in Guyana but are also packaged here. (Chriseana Ramrekha)
Douglas declared that persons are often mesmerised by the packaging of the wine, which includes a label, designed by his wife, who is an artist. Another aspect of the package is a tag with information on the history and origin of the wines.
Quality product
He disclosed that approximately 300 bottles of wine are produced every day but the focus is not on mass production, rather on providing a quality product that is satisfying to all customers.
He added that, over the next year, he hopes to develop a consistent export market and, towards this objective, he has entered into a partnership agreement with COURTS Guyana Inc., through which he supplies the company with wines to be given to their customers on the purchase of certain items.
Douglas said Pandama wines will be on display for sale in booth number 96 at Guyexpo, where he will be offering free samples for customers to taste before they make their choice of flavour.
There will also be chilled wines and glasses available for the customers who wish to drink on the spot and he recommends Guyexpo as a very good forum for marketing any new product, as there is a constant flow of people to the exhibition site and media coverage, too.