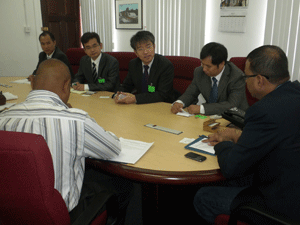 TOP executives of China National Offshore Oil Corporation (CNOOC) — CUI Hanyun, Overseas Exploration Inspector, and Mr. HU Gencheng, South America Exploration Project Manager of China National Offshore Oil Corporation — recently made a courtesy call on Minister of Natural Resources and the Environment, Robert Persaud, to discuss bilateral cooperation amongst petroleum and other related areas of investment in Guyana.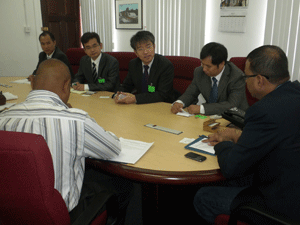 Commissioner of the Guyana Geology and Mines Commission (GGMC), Ms. Karen Livan, and other technical officers of the Commission were also present at the talks.
CNOOC is the largest offshore oil and gas producer in China, and has been engaging the Government since early 2010.
Discussions were held on several pertinent issues, with particular attention given to enhancement of the relationship between the Ministry and CNOOC, as well as capacity building of GGMC in areas of training.
Others issues discussed were the status of oil exploration in Guyana, the terms and regulations and other related areas for foreign investment in oil in Guyana, and the investment environment and infrastructure.
CNOOC is a mega government owned company operating directly under the State-owned Assets Supervision and Administration Commission of the State Council of the People's Republic of China.
In 2011, the company's rankings in the Top 50 Global Oil Companies and Fortune Global 500 rose to 34th and 162nd, respectively.
Headquartered in Beijing, CNOOC employs approximately 98,750 people for all business. It has, since its incorporation in 1982, maintained strong growth momentum, evolving from a purely upstream oil and gas exploration outfit to an integrated group of energy-related companies, with promising primary businesses and a complete industrial chain.
The six main business segments of the company are oil & gas exploration and development; professional technical services; refining, sales and fertilizers; natural gas and power generation; financial services and alternative energy resources.