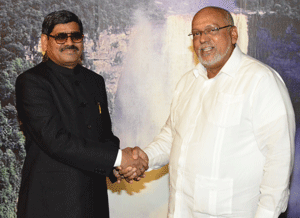 – vows to fortify longstanding bilateral relations
THE construction of Guyana's first specialty hospital at Turkeyen, with financing from the Government of India represents another symbol of bilateral cooperation between Guyana and its Asian ally.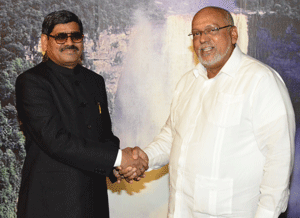 President Donald Ramotar said the Guyana Government is sincerely appreciative of such support and conveyed his sentiments to His Excellency Puran Mal Meena, the newly appointed Indian High Commissioner to Guyana who handed over his letters of Credence yesterday at Office of the President replacing his predecessor, Subit Kumar Mandal.
"I am confident that your appointment as High Commissioner of India to the Republic of Guyana, will serve as a mechanism for the further enhancement of this programme of cooperation and for strengthening of the relations between our two countries," President Ramotar said.
In November 2011, the Indian Government approved a "soft loan" to fund the construction of a state-of-the-art specialty hospital for which the government is at present undertaking preparatory works at the identified site at Liliendaal.
In February of that year, former President Bharrat Jagdeo and then Minister within the Ministry of Health, Dr. Bheri Ramsaran, visited India to finalise the agreement to construct the 250-bed hospital which, when completed, will be providing services including cardio-related and cosmetic surgeries, and organ transplants.
It will preclude the need for Guyanese to travel overseas for those services for which they are required to pay exorbitant sums.
The exchange of development experiences between Guyana and India has been made a reality through the Indian Technical and Economic Cooperation (ITEC) programme, which has also afforded scholarships to Guyanese. ITEC was initiated in September 1964 as a bilateral programme.
The Guyana National Stadium at Providence which was constructed by the Indian firm Shapoorji Pallonji through a US$6M grant and a US$19M soft loan from the Indian Government is also a product of the two countries' bilateral cooperation.
The relationship between Guyana and India extends for decades and has been based on respect for international law and the social, economic and political development of the two countries' peoples.
President Ramotar said that the two countries have also collaborated on many global issues of mutual concern at the level of the United Nations, and the Commonwealth among which is the call for reform in the UN and the Security Council.