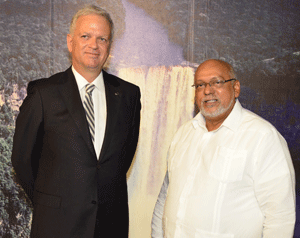 THE Government of Turkey is building on its agenda of increasing contacts with countries in Latin America and the Caribbean and in so doing, has appointed a new Ambassador to Guyana, Muhsin Tugul Kilicaslin who the Guyana Government hopes will take the existing relations between the two countries beyond the multilateral level.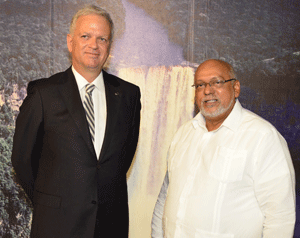 The Ambassador presented his letters of Credence to President Donald Ramotar yesterday at Office of the President, vowing to fulfill the Turkish Government's mandate of strengthening, political, cultural, economic and national ties with Guyana.
"My Government is willing to explore all existing opportunities for further development of relations between the Co-operative Republic of Guyana and Turkey," Ambassador Kilicaslin said.
Relations between the two countries also exist at the level of the Organisation of Islamic Cooperation and the friendship, according to President Ramotar, is part of a commitment between the two countries to respect human rights and the harmonious relations between states, as enshrined in the Charter of the United Nations.
"At the bilateral level, notwithstanding the distance between our two countries, I am confident that there are many opportunities for us to strengthen our relations…we should explore areas that will serve to enhance the relations between Guyana and Turkey," President Ramotar said.
In 2010, the Turkish Government appointed an Ambassador to the Caribbean Community (CARICOM) as it sought to work closer with the region.