THE Theatre Guild of Guyana, located in Parade Street, Kingston, Georgetown, celebrated the life of two of its veteran members in an evening of tribute last Wednesday.
Dubbed "Remembering Frank and Godfrey", the evening was dedicated to the memory of two honorees, Frank Thomasson and Godfrey Chin.
Thomasson was a former official of Bookers who, along with Dr. Ian McDonald, David DeCaries and Justice Keith Massiah, founded the Theatre Guild in 1957. He was the Guild's first secretary, and was involved as an actor and director in several of its notable productions, such as "Teahouse of the August Moon".
He was a Business Psychologist by profession, and was Personnel Director of Bookers Sugar Estate for nine years before he left Guyana.  His very important book, "A History of the Theatre in Guyana 1800 to 2000",  was published in  2008, and launched at the Guild during CARIFESTA X in Guyana in 2009.
He passed on in the United Kingdom on Monday, March 5, 2012.
Chin was a Guyanese social history icon and culture enthusiast. He was the author of the very popular Nostalgia series in various media, as well as a book, "Godfrey's Nostalgias-Golden Memories of Guyana 1940-1980", and he was a pictorial enthusiast.
He hosted pictorial exhibitions at various venues across North America, including Vancouver in Canada, and Washington DC, Brooklyn, Manhattan, Fort Lauderdale, Miami and Orlando in the USA, and in Guyana.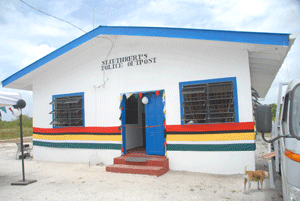 As the evening progressed, guests read extracts from "A History of Theatre in Guyana" and "Nostalgias", the works of Thomasson and Chin respectively.
Special guests included Theatre Guild Chair of the Board of Trustees, retired Brigadier Joe Singh; Founding Member of the Guild and member of the Board of Trustees, Dr. Ian McDonald; retired Colonel Carl Morgan; Leading lady Elizabeth Wells; Veteran Costume Designer, Daphne Rogers; Member of the Guild's Executive Management Committee, Enrico Woolford; Member of the Guyana Cultural Foundation of the USA, Margaret Lawrence; and Literary Critic, Terence Roberts. The event was emceed by veteran broadcaster and actor, Ron Robinson.
Chin's brother, Kerel Chin, who is six years his junior, reminisced on growing up with Godfrey and the writing of the work, 'Nostalgias'. Malcolm DeFreitas, Member of the Guild's Executive, spoke about the Chin that most people didn't know, sharing tidbits such as his involvement in sport.
At the event, acting Chair of the Board of the Guild, Dr. Paloma Mohamed, said the night's proceedings would be posted on YouTube.
The Theatre Guild is a non-profit organization dedicated to nurturing artists, and promoting the arts in Guyana. The work of the Guild is supported by the following corporate members: Republic Bank; GT&T, ANSA McAL, GBTI, Banks DIH Ltd, Noble House Seafoods Ltd, AINLIM, MACORP, Citizens Bank, John Fernandes Ltd and the Stabroek News.