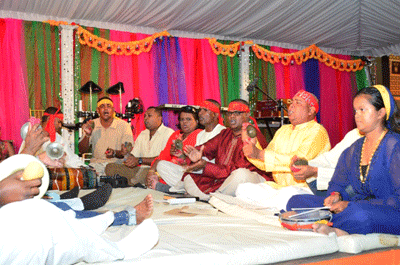 … to usher in Holi
PHAGWAH, the Hindu Spring Festival, will be celebrated on March 8 across the world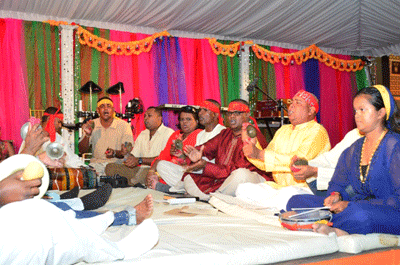 in countries with people of Hindu origin, such as Guyana. To usher in this season, President Donald Ramotar and First Lady, Deolatchmee Ramotar, in collaboration with the Guyana Hindu Dharmic Sabha, Saturday hosted a National Chowtal Samellan and Holi Sanagan at the Guyana International Conference Centre, Liliendaal,Greater Georgetown.
Prime Minister, Samuel Hinds and his wife, Yvonne Hinds, Minister in the Ministry of Finance, Juan Edghill, and several members of the diplomatic corps joined the President and First Lady at the first ever chowtal celebration organised in Guyana in celebration of Holi.

The night featured melodious chowtal renditions by various Dharmic Sabha groups across the country, including those of Crabwood Creek, Region 6, and Bush Lot, Region 5, as well as performances of several beautiful holi songs.
President Ramotar, opening the night's entertainment, said that the event was realised mostly through the hard work of First Lady Deolatchmee Ramotar. In extolling the importance of Holi, he said that he was happy to facilitate such an event that seeks to honour the importance of integrity and goodness.
Representative of the National Dharmic Sabha, Dr. Vindhya Persaud, at the start of the event, said that Holi is one of the most vibrant and colourful festivals that allows for families and friends to gather at events, to mingle and share love. Dr. Persaud, one of the organisers of the event, said that it was a pleasure to collaborate with the President and First Lady in organising the Sanagan of such magnitude in Guyana.