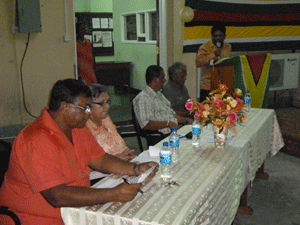 — deems 2011 a year of reasonable success
AT its Annual General Meeting held recently at the Vreed-en-Hoop Arya Samaj Mandir, the West Demerara Arya Samaj announced plans for 2012.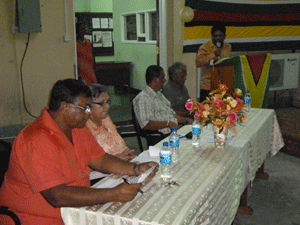 According to president of the organization, Jaidev Dudhnath, discussions with the relevant authorities will soon begin, with the aim to establish two concrete bus sheds, two blood drives, medical outreaches, and the painting of road crossings at various locations, among other things. Distribution of food and clothing, which is of significant value to the less fortunate, is also planned.
Dudhnath posited that 2011 was a year of reasonable success, and promised that the regional body will continue to render assistance to the poor and needy. He noted that, in 2011, the organization donated two wheel chairs, and distributed 750 toys to children in various communities, such as La Grange, Vreed-en-Hoop, Windsor Forest, Parika Back, Salem, and St Lawrence. Monetary donations were also made to senior citizens, compliments of the president of the Vreed-en-Hoop Arya Samaj, Vishnu Bandhu.
Noting that the blood drive on November 12, 2011 was hailed by former Health Minister, Dr Leslie Ramsammy, Dudhnath said the West Demerara Arya Samaj was aware that other stakeholders must come on board to assist government in its quest to provide services to the less fortunate and vulnerable. Pointing to the sixth principle of the Arya Samaj, which states that, "To do good to the whole world is the main object of this Samaj, i.e., to improve physically, spiritually and socially", Dudhnath said: "We must, at all times, be mindful of our less fortunate brothers and sisters… we cannot be oblivious to their cause… we have to give freely."
At the national level, Dudhnath said, the West Demerara Arya Samaj participated in Harmony Week and Culture Fest activities. He noted that the regional body was a main contributor at the launching of the Arya Samaj Monument at the Promenade Gardens in August 2011. The regional body also held cultural shows to mark Phagwah, Mother's Day, Father's Day, Indian Immigration Day, and Diwali; and featured on two all-night radio programmes – Phagwah and Diwali.
Dudhnath was high in praise for the four-day youth camp, held between August 4 and 7 at the Windsor Forest Arya Samaj mandir, where over 85 youths participated. Special mention was made of the two main resource persons – Mrs. Dhanrajie Haimraj and Mr. Dev Rameshwar.
The newly elected executive committee, headed by Jaidev Dudhnath, includes Mrs. Rambhawatie as Vice President, Mrs. Dhanrajie Haimraj as Secretary, Ms. Nirvanie
as Assistant Secretary, Mr. Seepersaud as Treasurer, and Mr. Devanand Datt as Public Relations Officer.